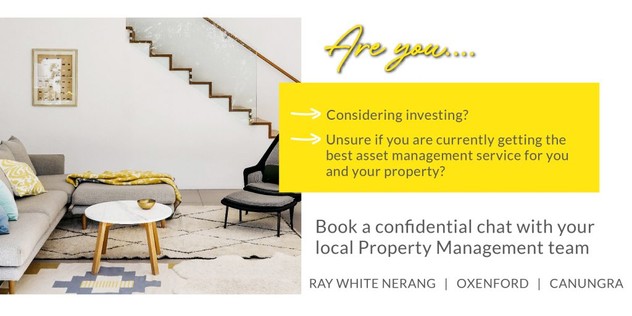 Hiring A Property Manager
Hiring a property manager could be essential to the success of your investment. A professional team will market your property, set rent, screen and select tenants, lodge bond, handle disputes and provide you support. Not all property management teams uphold the same level of customer service that Ray White Nerang | Oxenford | Canungra standardises.
Your property is often your families long term savings plan and you should closely vet all prospective managers to ensure that you and your family are taken care of. As with any profession, there are licensing and training requirements to protect you and your asset.
Under the leadership of Clint Hynes and Brenton Buttigieg one of Ray White Queensland's most awarded teams and one of the fastest agents in Ray White's history to achieve both Elite and Chairman Elite status, Ray White Nerang | Oxenford | Canungra prides itself on its high levels of marketing, customer service and efficiency. This highly structured and capable team deliver the highest standard of care and diligence in their work. Combined with utilising the latest cloud-based software to offer investors a comprehensive online portal complete with documentation, photography and upcoming inspections, the team at Ray White Nerang | Oxenford | Canungra are here to protect you and your assets.
Next Steps
Contact Ray White Nerang | Oxenford | Canungra to discuss your expectations and needs regarding renting your property on the Gold Coast. Our team can schedule either a telephone chat or video conference to ensure you are comfortable with the team you employ, followed by an on-site meeting and appraisal of your property.